Reizen door Suriname met Groenroodwit
Groenroodwit informeert u graag over reizen, tours, excursies en accommodatie in Suriname en denkt graag vrijblijvend  met u mee over de samenstelling van uw vakantiereis. Want reizen door Suriname is mijn passie.
Groenroodwit  beschikt over een uitgebreid netwerk in Suriname en kan uw wensen -als u dat prettig vindt- voor u afstemmen met touroperators of accommodatiehouders ter plekke of u met hen in contact brengen.
Laatste nieuws: Van 4 februari tot en met 19 februari 2017 organiseert Groenroodwit samen met ABC TRAVEL een rondreis door en naar Suriname. Het dagschema is als volgt: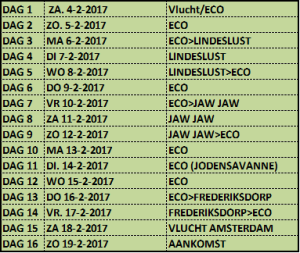 Vragen, interesse? Stuur dan een mail naar  rene@groenroodwit.nl of klik hier of hier.